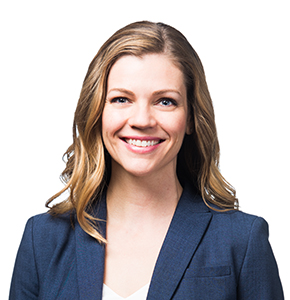 Maggie is a partner at Roper Greyell where she practises in all areas of employment and labour law. She provides clients with practical and strategic advice in her role as a trusted advisor.
Maggie's goal is to understand the world her clients operate in – applying her legal knowledge in a pragmatic way and providing user-friendly advice. She builds strong relationships with her clients and works collaboratively with them to navigate a variety of unionized and non-unionized workplace issues.
Maggie's approach is grounded in the understanding of her clients' businesses and their long term strategic goals
Maggie represents employers on all aspects of employment relations. She also regularly conducts investigations and advises clients on human rights and employment issues, including terminations, wrongful and constructive dismissal claims, employment contracts and statutory employment obligations. Maggie has represented clients before the British Columbia courts, the Human Rights Tribunal and the Employment Standards Tribunal.
Maggie makes complicated legal issues less stressful by providing a framework of understanding and clear intentions. This allows her to proceed in the unhindered pursuit of her client's goals in a tough but fair approach that doesn't unnecessarily burn bridges where one may need to maintain long-term working relationships with one's opposition.
Maggie received her Juris Doctor from The University of British Columbia. While at UBC, she received numerous awards including the Borden Ladner Gervais LLP Prize in Conflicts Law and the John E. Sullivan Award in Constitutional Law. Prior to joining Roper Greyell, Maggie practised employment and labour law at the Vancouver office of an international firm.
Outside of work, Maggie enjoys spending time with her family and exploring Vancouver.
LL.B., University of British Columbia, 2006
B.A., English Literature, University of British Columbia, 2000
Membership / Affiliations
Member, Employment Law Section, Canadian Bar Association, B.C. Branch
Member, Law Society of British Columbia
Board Member, UBC Law Alumni Association (2008-present)